Women and Media Award
WIFP's "Women and Media Award" has been granted to women who have made outstanding contributions toward expanding women's voices in the media. It has been annual since 2013. Recipients receive a framed Award, a check for $100 and our deep appreciation for their crucial contributions to women and media.
Current and Previous Recipients
2017
Vinie Burrows
July 13, 2017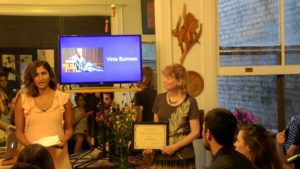 Sunaya Padmanabhan announcing the 2017 Women and Media Award,
sharing the description below with participants at WIFP's 45th Anniversary Celebration.
Martha Allen, WIFP Director, is holding the Award.
Vinie Burrows was unable to receive it in person because she is performing in
Midsummer's Night Dream.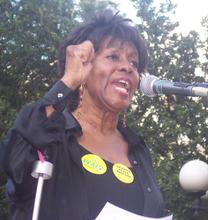 Women's Institute for Freedom of the Press is deeply honored to present Vinie Burrows with the 2017 Women's Media Award. Activist, storyteller, and actor only begin to describe the role of Dr. Burrows in advancing media representations of women of color. She holds a Bachelor's and a Master's Degree in Performing Arts from NYU, followed by an Honorary Doctorate from Paine College as an Activist and Scholar. Her education demonstrates the moving integration of racial representation and theatrical performance that guides her purpose in life.  As a result of her disappointment in these one sided portrayals of life and the world, Ms. Burrows created and produced a series of eight one-woman shows. Her body of work illustrates a subversion of the traditional white dominant roles in plays and cinema. She has performed over six-thousand shows all across Europe, and most recently, Russia. This extraordinary Emmy- nominated actress, who began her career on Broadway, found her voice as an activist for South Africans. In order to further her goals of peace and racial equality, she works as the Permanent Representative 
for the Women's International Democratic Federation- an NGO with the Economic and Social Council of the United Nations.
She actively pursues the encouragement of women's rights and social and economic stability in South Africa. 
Her support of female equality extends globally, especially to WIFP, where she has been affiliated since 1980. Her continued contributions to the multi-faceted representations of people of color in theatre and the incredible political work to attain peace in South Africa makes her a splendid and truly deserving recipient of the Women's Media Award.
Website: http://www.vinieburrows.com/
~by Sunaya Padmanabhan, WIFP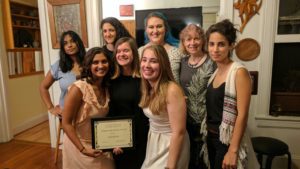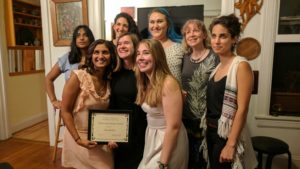 WIFP women gather after the Award Ceremony to express their appreciation
to Vinie Burrows for her important contributions to women and media.
__________
2016  
Soraya Chemaly
June 23, 2016

The Women's Institute for Freedom of the Press presented the 2016 Women in Media Award to Soraya Chemaly, a writer and activist focused on the role of gender in culture, politics, religion, and media.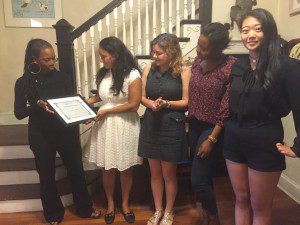 In the summer of 2015 Soraya gave a TED talk at the Barcelona Women conference. She presented "The Credibility Gap: How Sexism Shapes Human Knowledge." At this talk she discussed an article she wrote concerning how gender is addressed in public spaces, specifically how men's bathrooms are larger than women's even though women routinely need the bathroom more and for longer periods of time (due to breastfeeding, periods, etc.). She said this article, written for TIME and called, "The Everyday Sexism of Women Waiting in Public Toilet Lines" is the one for which she has received the most backlash and verbal abuse. This was shocking
to her because many of her other articles contain stories of violent gender-based crimes often of a sexual nature, yet it was an article about how women deserve larger public restrooms that was the cause of public outcry.
Recently, Soraya has written about the role gender plays in the ongoing 2016 Presidential Election. At a rally in Spokane, Washington Donald Trump said Democratic Presidential Nominee Hillary Clinton is "playing the woman card." In response, Soraya wrote the article "How Ted Cruz, Bernie Sanders, and Other Men Play the Gender Card" where she explained how men constantly bring their gender to the front of their campaigns. She said by being recognized first and foremost for their political ideals and not having to discuss their gender these candidates are themselves playing the male card.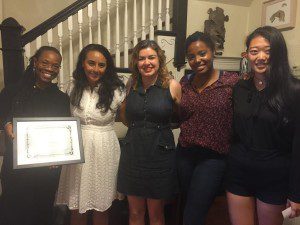 Another powerful article Soraya published in May 2016 on The Huffington Post's website deals specifically with the Washington D.C. Metro Area. In the article, "D.C. Metro Rape Highlights Why Women Are Always Aware of Rape," she discusses how threats of sexual assault, harassment, and stalking are prevalent to women in the Metro area and to women who use public transit across the world. Soraya encapsulates the threats women face on public transit, writing:
We aren't walking around petrified, saying to ourselves, "I could get raped today," eagerly anticipating having legendary victimhood status, but by the time we are adults, at school, going to work, shopping for food, we have all been taught to adapt silently to the threat, and society's leveraging of that threat to limit our public and civic engagement.
Through her many articles and presentations Soraya has shown time and time again that she is an eloquent speaker and a thoughtful researcher, able to pinpoint and comment on the problematic parts of gender treatment and expression in today's society with accuracy and considerate judgment. In 2013, she won the Association for Education in Journalism and Mass Communication's (AEJMC)'s Donna Allen Award for Feminist Advocacy and the Secular Woman Feminist Activism Award. Now Soraya has been awarded the 2016 Women and Media Award from the Women's Institute for Freedom of the Press.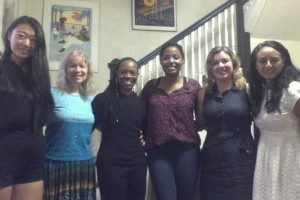 Currently, Soraya is the Director of the Women's Media Center Speech Project and the organizer of the Safety and Free Speech Coalition. She has written for The Huffington Post, The Feminist Wire, The Guardian, TIME Magazine, The Atlantic, Rolling Stone Magazine, and other assorted newspapers and magazines. Soraya serves on the boards of multiple organizations including: Women, Action and The Media, In This Together Media, No Bully, and the Women's Media Center.
~ by Angelica  Sisson, WIFP
__________
2015  
Roxanne Dunbar-Ortiz, PhD
May 29, 2015

The Women's Institute for Freedom of the Press has great privilege in presenting Roxanne Dunbar-Ortiz Ph.D. with the 2015 Women and Media Award. Her grandfather's work as a labor activist and socialist inspired her to become a historian, feminist, and social justice advocate. While completing her Doctorate in History, from the University of California Los Angeles, she worked in the women's liberation movement. In her teaching career at Cal State Hayward, she taught intersectionally, combining both  Native American ethnic studies and women's rights. She has greatly benefitted the Native American community, after joining the American Indian Council, in 1974, focusing on the importance of self-determination and international human rights. She presented her first book, The Great Sioux Nation: An Oral History of the Sioux Nation and its Struggle for Sovereignty (1977), at the first international conference on Indians of the Americas, held in Switzerland, at the UN headquarters. Bringing attention to connections across cultures, she denounced the Discovery Doctrine and the colonialism that devastated Native Americans, to the mistreatment of Muslims, within the United States. Addressing the strife of multiple cultures, in the oppressions that they face through the media, exemplifies the ideals of change required to make an impact and further the path to equality. Incredibly accomplished and distinguished in her field, WIFP is overjoyed to present Dr. Dubar-Ortiz with the 2015 Women and Media Award.
~ by Sunaya Padmanabhan, WIFP

May 29, 2015
Award presented by WIFP's Alethea Russell
Website link: http://www.reddirtsite.com/
__________
2014  
Tobe Levin, PhD
April 6, 2014 
Tobe Levin Ph.D. is the truly deserving recipient of the 2014 Women and Media Award, from WIFP. Her work as an activist, professor, and translator have created great positive impact within her community. Graduating from NYU Paris with an M.A. in French, and later a Ph.D. from Cornell University in Comparative Literature, prepared her well for her lengthy career in various research and academic positions. Working as a non-resident fellow in the early 2000s, for the W.E.B. Du Bois Institute for African and African American Research, she now works as the Associate of The Hutchins Center at Harvard, under the directorship of Professor Henry Louis Gates Jr. Her background working in African studies prepared her for her future as an activist against Female Genital Mutilation practices or FGM. She is on the board of various academic journals surrounding this important topic, such as the Journal on Female Genital Mutilation and Other Harmful Traditional Practices (Inter- African Committee, Addis Ababa, Ethiopia). Published in over 100 academic articles, her body of work proves very impressive and significant in bringing about awareness and activism against FGM. In 2009, she founded UnCut/Voices Press where she blogs about the violences committed against girls using FGM. Her truly revolutionary work and inspiring dedication to her cause inspires and follows with the mission of WIFP, therefore, we are truly honored to present her with the 2014 Women and Media Award.
~ by Sunaya Padmanabhan, WIFP

April 6, 2014
Award presented by WIFP's Assoc. Director Elana Anderson, PhD
Website links:
https://nofgm.org/category/tobe-levin/
https://en.wikipedia.org/wiki/Tobe_Levin
 https://uncutvoices.wordpress.com/
__________
2013  
Maurine Beasley, PhD
August 1, 2013
WIFP is genuinely honored to present Maurine Beasley Ph.D. with the 2013 Women and Media Award. Former writer for the Washington Post, she focused on the portrayal and contribution of women in their own media representations. Attaining her journalism degree from the University of Missouri and Columbia University, and her Ph.D. in American Civilization from George Washington University served her well in her illustrious teaching career. As a Fulbright Scholar, she taught journalism at Jian University in China. Later on in her teaching at Maryland, she intertwined her love of the media with feminist activism by leading classes on women in the media and the history of journalism.  She has published many works illuminating the relationship between women and the media, and has received extensive praise for these contributions. Therefore, as she has dedicated her life to the ideals of the WIFP she is a truly deserving recipient of the 2013 Women and Media Award.
~ by Sunaya Padmanabhan, WIFP
August 1, 2013
Award presented by WIFP's Alethea Russell