Interns and Volunteers
The Women's Institute for Freedom of the Press is a support network for media women, and women concerned about media, who believe that the world's communication systems must be based on the fundamental principle that people should be able to speak for themselves. WIFP interns gain an understanding of the impact of mass media and issues relating to media democracy and media justice. They also gain a thorough knowledge about the women's media movement. Interns and volunteers become our staff while they are with us. Read below for more info on our internship program.
Notice: We are no longer taking interns.
Our Interns are:
Self-motivated
Independent: able to operate well without a great deal of supervision
Interested in learning about media democracy and media philosophy
Concerned with extending women's voices in today's society
Intern projects can include, but are not limited to:
Writing (women & media related) for our publications and website
Editing (such as the Directory of Women's Media; the print issue of Voices for Media Democracy and our booklet series).
Publication production editor (such as knowledge of InDesign used in our annual print Voices for Media Democracy) for our three print publications.
Public relations (creative ways to share our work with others)
Projects the intern brings to our organization or that grow out of the experience here.
Our internships can be full or part time. We usually spend 12 hours a week together in the office (10 am – 2 pm, Tuesday, Wednesday, and Thursday). Time outside the office is spent doing research, writing, editing and work on projects from home or the library, supervised by the Director. Interns also have opportunities to attend press conferences, luncheons, meetings and various other functions on Capitol Hill and around the city. The number of hours a week beyond the twelve hours in the office is worked out individually according to the needs and interests of the intern but outside work (research, writing, editing) is expected. There is some flexibility in this schedule so feel free to inquire about an internship schedule that can accommodate you, if this is necessary. The core of the summer internship program is June and July. A five or six-week minimum commitment is generally needed for the summer program (July and at least one or two weeks in June). Other parts of the year allow greater flexibility because we don't have as many activities scheduled. Interns become our support staff while they are with us and are a vital part of our organization.
Volunteers:
If you'd like to volunteer with WIFP instead of committing to an internship, feel free to contact us and we'll see what we can work out.
How to Become an Intern
To apply, email a letter about why you are interested in becoming an intern with WIFP and attach your resume: mediademocracywifp@gmail.com
In your cover letter, be sure to discuss why you are interested joining WIFP as an intern. Writing samples are welcome.
We very much look forward to hearing from you. If you have questions or would like to communicate with WIFP's Director, email mediademocracywifp@gmail.com ~ we'd love to hear from you.
If you are interested in an internship with any other women's media, here is a resource for you to start your search: Internship List
Current Interns & Volunteers 
Click here to learn about our current interns and volunteers.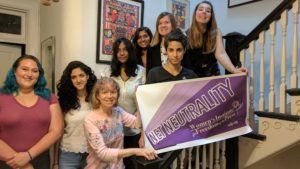 Past Interns
Click below to learn more about our interns from recent years.
–> 2017 Interns / 2016 Interns / 2015 Interns / 2014 Interns / 2013 Interns / 2012 Interns / 2011 Interns / 2010 Interns / 2009 Interns